Undercarriage parts I Powertrack Co Ltd
Mini undercarriage parts.
We supply a wide range of mini excavator parts- track rollers, sprockets, idlers, track chains, track shoes, bolts and nuts for YANMAR, KOMATSU, HITACHI, VOLVO, HYUNDAI, CAT, JCB, KOBELCO, KATO, TAKEUCHI, DOOSAN, HYUNDAI and etc.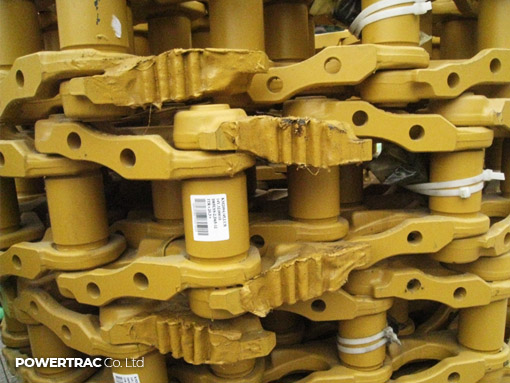 Bulldozer track chains
POWERTRAC links are assigned to fit various size and capacity of track mounted vehicles, ranging track link pitch 260mm for Lubicated type with split master link.
Hydraulic pumps
POWERTRACK supplies a wide range of hydraulic pump parts in applications for excavators and tractors acknowledged one of top brands in the world for long life, reliability and value.
Hydraulic pumps for KAWASAKI OEM
Products; MAIN PUMP ASSEMBLY, SWING MOTORS, TRAVELLING MOTORS, GEAR PUMPS and inner components
Travel devices
HYDASH, KAYABA, UCHIDA,NACHI travel devices are availble for Mini travel devices.
Hydash- GM03, GM05V, GMO5VL, GM06VL, GM06VN, GM06VL, GM09VL,GM15L2,GM18VL
KAYABA - MAG16V,MAG18V, MAG26V,MAG26B, MAG33V, PSVD2-21, PSVK2-27, PSVD2-21
UCHIDA- AP2D36LV1R36, PVD2B36L3DP, AP2D14LVGP
SWING MOTORS, TRAVELLING MOTORS, GEAR PUMPS and  inner components for Korean and Japanese built machines.
The above mentioned name of makers and models have nothing to do with us only for the customers reference purposes only.